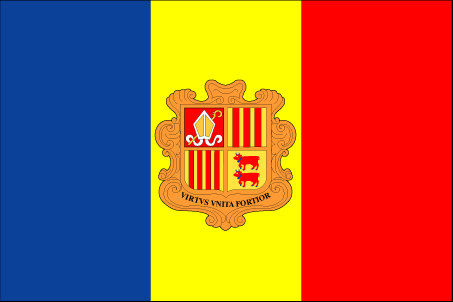 Overview
Andorra, officially the Principality of Andorra , also called the Principality of the Valleys of Andorra, is a small landlocked country in southwestern Europe, located in the eastern Pyrenees mountains and bordered by Spain and France. Andorra is the sixth smallest nation in Europe having an area of 468 km2 (181 sq mi) and an estimated population of 83,888 in 2009. Its capital, Andorra la Vella serves as Andorra's capital and it is the highest (in terms of elevation) capital city in Europe, situated at an elevation of 1023 metres.  Andorra has an official language known as Catalan, yet residents speak Spanish and French as well.
The Principality of Andorra was formed in 1278. The role of monarch, which is now largely ceremonial is exercised jointly by the two co-princes, the President of the French Republic and the Bishop of Urgell, in Catalonia, Spain.
Andorra main source of income is from its tourism industry.  An estimated 10.2 million visitors come to Andorra annually. Another attraction of Andorra is its status as a tax haven. Surprisingly, Andorra is not a member of the European Union. Despite this fact the Euro serves as the defacto currency.
Finance Information
Andorra has no Central Bank
Investment Banks